Our philosophy is simple.
We share our extensive knowledge without being pushy.
Our team take the very best produce and deliver it to our guests with the same care and attention that our growers and suppliers have put into making it.
We like to encourage our guests to try something new with the confidence that they will adore.
Head Chef Ben has worked at some of the finest restaurants in Cornwall.
In ten years he's gone from the apprentice programme at Fifteen Cornwall, where he accelerated to Chef Di Partie, to the Watch House in St Mawes, and the Fish House, Fistral Beach, where he was made Head Chef and picked up a few awards along the way.
When it comes to preparation and creativity, Ben loves making fresh pasta:
He Says:
"It's a really special skill, and when you finally understand it properly and have the know-how to do it, there is not much that could top that for me."
Ingredients and suppliers
There's more to our food than finding great produce. It's finding great suppliers too.
When Ben source's our ingredients, he looks for a supplier that has a passion for their product, who treats it with the utmost care.
It's Ben's unwritten rule that he then carries that love and passion on when preparing and serving his food.
Ben's inspired by passionate suppliers but also the people he works with closely.
Previously Chefs who are like mentors, managers and floor staff.
Every cog in the wheel is essential in its own way, and when it all comes together, it makes something special.
Ben wants to create something that Newquay hasn't seen before, to set Cove24 apart from the ordinary and make it extraordinary.
Using produce from beautiful, sustainably caught fresh fish and mouth-watering home-grown Cornish beef, to the vegetables rooted from Cornish soil.
He wants a menu that appeals to all.
There will be more than one option for vegetarians and vegans to reflect the growing diversity of tastes and ethics.
Sunday lunch will be big at Cove24 with freshly cooked to order roasts which are bright, vibrant and flavoursome.
Ben is excited about the opportunity to progress as a Chef, working with a highly experienced team and working for people who show vision, inspiration and passion for this unique restaurant/bar in the heart of Newquay.
James Catherall aka 'Bolton':
General Manager
Originally from Bolton thus the nickname 'Bolton', James moved to Cornwall to build a glittering career in hospitality.
This Bolton lad is a keen surfer, even though he's been known to get seasick on his surfboard.
"Hospitality is building great relationships with our guests and teams, and making sure everyone who walks through our door has the best experience I can give them."
Inspired by some great leaders, he's built a strong behind-the-scenes team to provide a world-class service at Cove24.
His goal is to exceed the guest's highest expectations, whether that's through eating delicious food, drinking an incredible cocktail, tasting an amazing bottle of wine or the genuine warmth and connection they have with the restaurant team.
Customers can expect to be guided through a fabulous experience while dining or drinking at Cove24. Sampling the best and finest seasonal produce, Cornwall has to offer.
The open kitchen is where Chef Ben and his team will engage with the guests, and the guests will also feel part of the team.
James' front of house team understand the menu like the Chef, and the Chef knows the customer like the Maitre d' to ensure complete consistency.
James achieves this by ensuring the team taste and review everything on offer to the customer, ensuring the highest standards across all areas.
James sees Cove24 as being a 'must visit' destination when staying in Cornwall. Where guests come to have an unforgettable experience with the industry leader in great food, drink and service.
He can't wait to offer this new, exciting concept for people to visit in Newquay.
He says:
"Seeing the genuine smiles on the faces of our guests when they experience Cove24 for the first time will be incredible, and I can't wait to book them in for their next visit."
Julien Monnet:
Bar Manager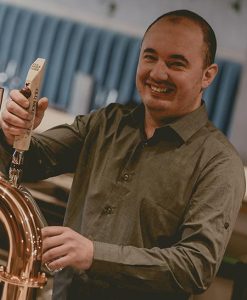 Julien has worked the world over, from the paradise of the Whitsunday Islands to the most luxurious hotel in Tahiti.
He's created cocktails for A-listers like Leonardo Di Caprio and run Marlon Brando's bar in Tahiti.
He is one of the jewels in our crown and, so, as our Bar Manager, he gets to create the bar his way and put his magic touch on everything in it, from the bar menu to the wine list.
With over 14 years in the industry as a Chef and Bar Manager, he joins us from Fifteen Cornwall, where we offered him an opportunity he couldn't refuse, to share the vision of Cove24.
Creating great relationships
Behind the bar he loves connecting with people, sharing an experience to build a relationship.
Preparing a guest's favourite drink and making it the best they have ever had makes Julien a happy man, and a challenge completed.
Always a great experience
Whatever the guests feel when they come to the bar, they may be happy, sad, angry or stressed Julien says:
"They will leave my bar with a smile on their faces, wanting to come back. I may make them their favourite cocktail, or introduce them to a new one, or a brand new wine and they will leave feeling better. "
A favourite cocktail is the classic Amaretto Sour. Firstly, it happens to be his favourite drink, and secondly, he has his own little touch on it, a secret ingredient.
It's the best you'll ever try, and no we're not telling.
For Julien, there is nothing better than seeing a guest reaction to his creation.
As soon as our guests see their cocktail, they usually get their phone camera out to take a picture. And then when tasting it, it's usually a 'WOW!', so for him, that's the job well done.
We gave Julien Cart Blanche unrestricted access to the world's best wines and drinks.
He's put his stamp firmly on it. Some of the wines are from little producers with fantastic backstories from France, Italy and Australia. We love supporting the passionate producers from the worlds wine regions.
Julien aim's to have the best wine list in the South West, and the best cocktail list in the South West.
He says:
"I want to open Trip Advisor and see Cove24 as number 1 on the list. And what an achievement that will be"
Charlie Hester:
Floor Manager
Charlie has gone from serving up aces in the Centre Court Members Bar during the 2017 Wimbledon Championship to taking the floor as manager of Newquay's best new restaurant and bar.

He says:
"I can't wait to be a part of this fantastic new concept in Newquay. Cornwall has some of the best food and drink in the whole of the country and what better way to celebrate that than to have it under one roof in a stunning new restaurant."
A Passion for hospitality
He has a genuine passion for hospitality and is looking forward to passing on that knowledge to the team.
Making sure that every guest enjoys the very best food, drinks and service time and time again, where there are no faults and that each visit is unique to the time before.
Creating great relationships
He sees his role as creating great relationships between the team and the guests and that each has an experience of learning about the finest food and drink during their time spent at Cove24.
Charlie is looking forward to creating wonderful memories for people who visit Cove24.
Especially for guests that are visiting Newquay on holiday, as he says:
"Holidays are for making memories, so it's down to me to help create fantastic memories for them."
Dameon Cottam:


Floor Manager
Dameon has been on both sides of the hot plate in the last 15 years. Originally trained as a Chef, he migrated to behind the bar as cocktail creator and then when he moved to Jamie Oliver's Fifteen restaurant he fell love with big Italian food flavours and robust Italian wines. It was here he honed his skills in training staff to deliver outstanding service.

He says:
"I even get excited about the small things, like the plates and glasses! I can't wait to deliver great service, food and drink to A level that Newquay or even Cornwall, hasn't seen before."
An incredible dining experience
When it comes to exceptional service, and training the local staff Dameon is intuitive. Striking the right balance between being attentive while not being overbearing or pretentious is what he does best.
What guests can expect

Cove24 will showcase the very best in Cornish produce from local suppliers and farmers with a passion for their products, giving tourists and locals alike a real flavour of the wonderful food grown, raised and farmed right here in this beautiful county.
Cove24 is place to feel indulged yet relaxed, an extraordinary dining experience, and professional service from people with a genuine passion for what they are trying to achieve.
Cove24

is a place to feel indulged yet relaxed, an extraordinary dining experience, and professional service from people with a genuine passion for what they are trying to achieve.
To receive news and offers from Cove24 
Sign up to our newsletter